Online Banking
Access your TOPCU accounts anytime and anywhere you have Internet access. Create your TOPCU Online Banking account by enrolling here.
With TOPCU Online Banking, you can perform account transfers, review transactions, make withdrawals, retrieve monthly statements, pay bills and loan payments, and enroll in eStatements. You can also purchase TOPCU share certificates, reorder checks, and report lost or stolen debit and ATM cards. You can even export and download your financial information into various financial software programs.
Questions about enrolling?
Call us at (520) 881-6262 ext. 702
or toll-free at (800) 440-8328
When you call, a TOPCU representative will verify your information and set up a temporary password. You can also email: info@topcu.org to request access to online banking. We'll help get you enrolled.
Get our Mobile App today!
iPhone and Android versions available.
Bill Pay
Bill Pay is a secure way to pay and track your bills online. Bill Pay offers convenience and cost savings, avoiding the need to write checks, mail bills, or buy stamps. Simply schedule how and when you want to pay your bills, then let us take care of the rest.
Bill Pay also lets you to receive eBills, an electronic version of the paper bill that you get in the mail. Nearly 400 companies offer eBills, such as gas, phone and credit card companies. Spend less time opening, filing and shredding paper bills. When a new eBill arrives, you will receive an e-mail reminder as well as a notification within your Bill Pay account. eBills are not an automatic debit service. You authorize every payment and specify the amount and date of each transaction.
If you need help with TOPCU Bill Pay, please call toll-free (866) 820-7974.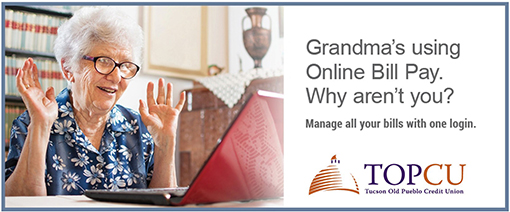 eStatements
Go paperless and reduce clutter by receiving your monthly statements via email.
Setting Up eStatements
Log in to your online services from the TOPCU website
Click on "Maintenance" and a drop down menu will appear on the left side of the screen
Click on "Email Changes"
Review the required disclosure then return to the Email Changes page
Click "Submit" to continue
Enter the email address(es) on the screen where you would like to receive notices
Click on "Sign Up for Online eStatements in the middle of the screen
Review the required disclosure then click "Submit" to continue
Verify that your email address is correct
Click on the check box next to "TOPCU will stop mailing hard copies of your statement" to acknowledge that you no longer want a paper copy mailed to your physical address
When finished click "Next"
Review the information on the screen and click "Submit"
You should now see a Confirmation Page reflecting your changes
Benefits
Simplicity, Security: No filing, storing or shredding paper statements
Fast, convenient viewing and printing of statements
Saves Resources: No paper or mailing expenses
FREE service to all TOPCU members!
Viewing eStatements
Login to your Online Banking services from the TOPCU website
Click "Statements" in the menu on the left side of the page
Open your eStatement by double clicking on it or save the file to your computer
What online financial services are available at TOPCU?
Share-to-Share transfers and share-to-loan transfers
Loan advances to Shares or a check
Account inquiries, balances and history
Change PIN and password
Print account information
Download data to personal financial software – Quicken 2004 (or older) or MS Money
Search for a specific check by number
Purchase a share certificate
Member-to-Member transfers
Reorder checks
Report lost or stolen Debit and ATM cards
Sign up for eStatements
Maintain email addresses
Change your mailing address
What do I need to access TOPCU Online services?
A computer with Internet connectivity hardware, (broadband (wired/wireless) or dialup (modem)
An Internet service provider account that supports your hardware
One of the following browsers: Opera, Firefox, Safari, Internet Explorer 6 or higher, Edge
A TOPCU Phone Branch PIN
How do I start?
Call us at (520) 881-6262 ext. 702, or toll-free at (800) 440-8328. When you call, a representative will verify your information and set up your Phone Branch PIN. You can also email us at info@topcu.org to request access to online financial services. To ensure your account security, we'll be back in touch to verify your information.
Member Security
To ensure protection of your confidential data, TOPCU's online service employs two forms of security: Dual Password Protection and Data Encryption.
Dual Password Protection
Requires the user to enter a second password in addition to the four-digit Phone Branch PIN to ensure that unauthorized users do not access your information.
Data Encryption
Is a process that transposes the information sent from our server to your browser into a code that cannot be understood or altered without using a key. This key deciphers the information from our server so it can display on your browser.
There are two levels of RSA data encryption that our server will provide: 40-bit and 128-bit. 40-bit data encryption is the standard method used all over the world for electronic commerce. The use of 128-bit data encryption outside of the United States is strictly prohibited by the U.S. Department of Defense; therefore, only 40-bit data encryption is currently available for users outside of the United States.
Network Security
The second facet of our security is protection of the Credit Union's internal network and member information. Internet transactions are routed via a T-1 connection. When they reach our router, the traffic is either sent to the Online Banking server (a specific, secure address), or to a proxy server. The proxy server enables us to isolate our local network from the public Internet. The Online Banking server is connected by a serial port to the main computer that houses the account information. Only a valid transaction request can cause information to be downloaded from the main computer. There is no physical wire connection between the Internet and either our PC LAN or our data processing system. This prevents unauthorized access to our network and any private information.
Can I change my password?
Yes. In fact, we strongly suggest that you change your password regularly. You can change your password by clicking on the security padlock ICON on the upper right corner of your account summary screen. Keep in mind that you also have the option to change your Phone Branch PIN.
What if I forget my password?
Our security system allows you only three opportunities to correctly enter your PIN or password. If you are unsuccessful after three attempts, your account will be locked. You should contact TOPCU for assistance at (520) 881-6262 ext. 702 or toll-free at (800) 440-8328 to regain access to your online account.
Is there a fee?
There is NO FEE for many of the online financial service features provided.
Are there different types of loan payment options?
Yes, our online service has three loan payment options: On-demand, Monthly and One-time payments.
If I have questions or need assistance with online services, whom do I contact?
You can contact TOPCU by email to info@topcu.org or call 881-6262 ext. 702 or toll-free at (800) 440-8328.