Medicare Workshop
This informative workshop is offered at no cost
A free educational Medicare Webinar to help you learn about your Medicare options and determine what is most important when enrolling in Medicare.
Whether you are turning 65 or looking at your Medicare options, we will highlight important information that will help you find the best Medicare coverage. 
Registration: Secure your spot today
Monday
May 22, 2023 3
:00 PM
MST
Tuesday
May 23, 2023,
10:00 AM
MST
Presenter: Jason Checketts
Insurance Professionals of AZ
Medicare & Health Plans
480-478-5329
Understanding the basics of Medicare can help you understand the importance of finding the right plan that works for your situation. TOPCU has Partnered with Insurance Professionals of Arizona, we are dedicated to educating the community about all of your Medicare and insurance options. 
We use our experience to guide you through the process. We can help you evaluate all of the plans available and decide what's best for you. Most importantly, we will work to help you save money.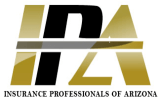 Workshops & One-on-One Appointments*:  Schedule a no cost, no obligation virtual workshop or one-on-one appointment :
Insurance Professionals of Arizona are not employed by topcu.
TOPCU does not provide and is not responsible for the product, service, overall website content, security, privacy policies or software downloads for any external third- party sites