Banking Alerts
Alerts that help, rather than annoy you.
Customize real-time activity
alerts
for your TOPCU accounts and
Visa
®
Credit
&
Debit
cards to avoid overdrafts and potentially suspicious activity.
Online Banking Alerts
You choose the alerts and how to receive them.
You can set custom alerts to stay informed of your financial activity. Choose which alerts you get and how you receive them. Just Log into Online Banking to set alerts so you know what's going on with your TOPCU checking, savings, credit card,  or loan accounts and take action when needed. Choose to receive your alerts by email, text, or in-app. What would be most helpful to you? You can receive notifications such as balance alerts, transaction activity, eStatements, account security notices, Bill Pay reminders, credit score updates, and more. It's up to you.
VISA PURCHASE ALERTS ENROLLMENT INSTRUCTIONS
Enroll today to set up near real-time text and email alerts for transactions occurring on your TOPCU Debit Card or Credit Card, plus get access to transaction-blocking controls.
Opting in to Visa Purchase Alerts
Access Visa Purchase Alerts website
Follow prompts to add your TOPCU Debit or Credit Card.
Select desired alerts and card controls.
How to Manage Account Alerts and Notifications
Setting up account alerts and account notifications are a great way to stay up-to-date on your finances and account activity.
ONLINE BANKING INSTRUCTIONS:
Step 1: Log into your online banking account.
Step 2: Once in the dashboard, hover over the Tools menu at the top and then select Alerts.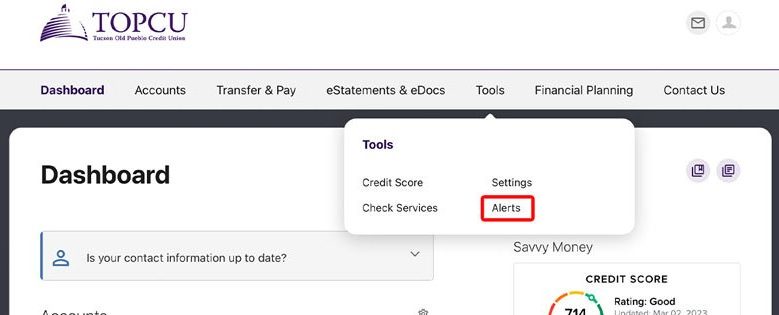 Step 3: From here, you'll be taken to the Alerts widget where you can manage all of your alerts for your selected account. Select the Accounts tab from the menu on the left and choose your desired account from the dropdown.
Step 4: Turn your desired notifications on by moving the on/off slider button. You can then select to receive email and/or push notifications. Then, save your changes. You're all set!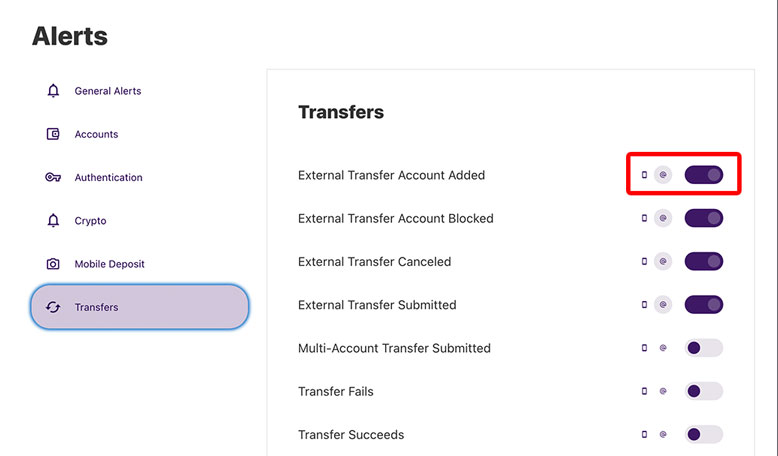 MOBILE BANKING INSTRUCTIONS:
Step 1: Log into your account on the TOPCU App.
Step 2: Select More from the menu at the bottom of the screen.

Step 2: Select the Alerts option inside of the Tools Option.
Step 3: Tap Accounts to manage all of your account alerts.
Step 3: After selecting your desired account, turn on a notification by choosing your desired alert then moving the on/off slider button. Then, select to receive email and/or push notifications. Lastly, save your changes.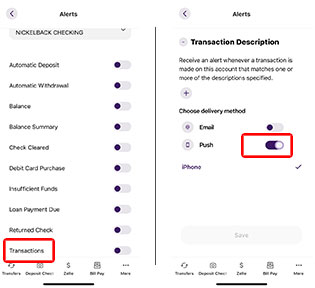 Important: only transactions occurring on Visa's network can be blocked or included in this service. ATM and digital wallet transactions are ineligible.
TOPCU does not provide and is not responsible for the product, service, overall website content, security, privacy policies or software downloads for any external third- party sites