How it Works:
Earn TOP Star Dollars for many activities, including saving, good grades, and other TOP Star exclusive activities. Trade your TOP Star Dollars at the TOP Star Store for prizes or gift cards!
TOP Star Youth Accounts
TOPCU's TOP Star program is designed to give our youngest members a good start with developing money skills and habits that can serve them well into adulthood. Our young members are encouraged to enhance their knowledge of banking and financial services, and to build a solid foundation of financial responsibility for their future. Additional banking products, such as debit and credit cards, can be added along the way. As they grow, their TOPCU account can grow with them!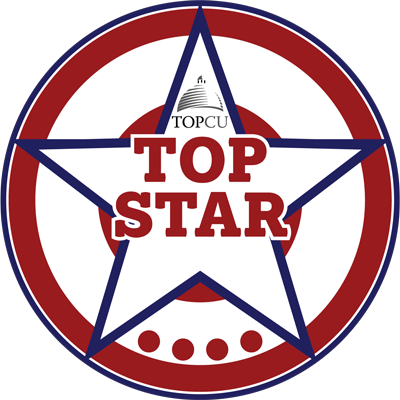 A kid-friendly account with grown-up features.
It Starts Here: Benefits of Being a TOP Star Kid!
There are many benefits to learning about the importance of money and saving at a young age. The TOP Star Kid program is built on the simple premise of Save – Earn – Learn! As our TOP Star Kids reach saving and participation milestones, they are rewarded with TOP Star Dollars which can be redeemed at the TOP Star Store for prizes and gift cards. 
Click here for the TOP Star Kid Program Overview.
Biz Kid$: Making Financial Education Engaging & Meaningful
Biz Kid$ is a national financial literacy initiative that teaches kids about money and business. The overall objective of Biz Kid$ is to engage young people and help them develop life skills in the areas of financial literacy and entrepreneurship. The initiative includes an Emmy award-winning television series, free classroom curriculum, outreach activities, and a website targeting kids 9 – 16 years old. Its focus is to help kids make and manage money.
The National Credit Union Foundation is responsible for fundraising, outreach and administrative responsibilities for Biz Kid$. The Foundation's involvement solidifies the commitment that America's credit unions have to educate our youth in the skills necessary to be financially literate. Click here to learn more about Biz Kid$! 
Financial Education Resources for Parents
Here's some great information for parents from the Consumer Financial Protection Bureau so you can help your kids develop strong and sound money habits. Learn more here.
Money As You Grow Resources:
If you have question about opening an account, please contact us at (520) 881-6262 to learn more

TOPCU does not provide and is not responsible for the product, service, overall website content, security, privacy policies or software downloads for any external third- party sites