Why Bank with TOPCU?
For more than 85 years, people in Tucson have trusted TOPCU for banking services and the guidance to help them reach their goals. Whether you're looking for rewards, interest bearing accounts or the latest mobile technology, our checking, savings and eServices have something for everyone.
Member Owned
One of Arizona's oldest credit unions. Established by Tucson Firefighters, Police and City employees in 1935.
Checking and Savings
Be rewarded for the things you do every day with our Rewards Checking Account. Enjoy time-saving features along with the opportunity to earn an exceptional rate every month to help your money go further!
Fee Free ATMs
Enjoy fee-free withdrawals at over 55,000 Allpoint network ATMs. That's over 3 times as many ATMs as those owned by Chase, Bank of America and Wells Fargo combined.
Find the right bank account for you.
Our checking and savings products come with no fees*—because why pay to bank? We offer a savings account that earns competitive rates. View our current Deposit Rates.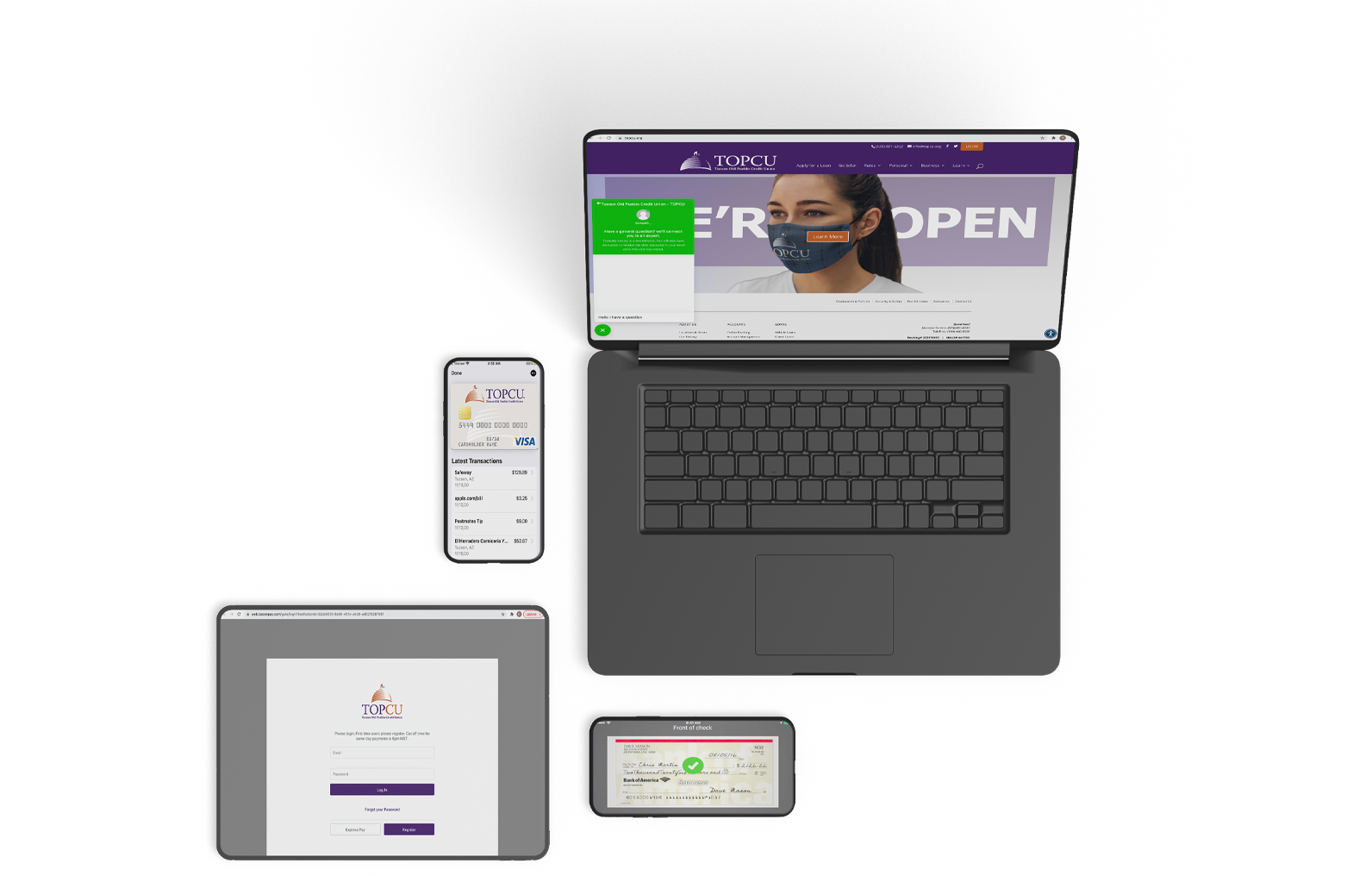 Manage your money on the go.
Bank almost anywhere, anytime with our top-rated mobile banking app and easy-to-use digital tools. It's all right at your fingertips
A checking account for you.
Get all the checking features you need to bank where you are. Make deposits from work or from the couch using our top-rated mobile app, and get cash when you need it thanks to a network of more than 55,000 TOPCU and AllPoint® ATMs.
A checking account for your teen.
Get your teens on the path to financial freedom with a checking account that's just for them. They'll get their own debit card and the latest mobile banking tools, and you'll get joint account access to keep an eye on things. Learn more
See what TOPCU Members are saying.
Five Stars
"I'm always greeted with a friendly big smile when I walk in the door, the tellers are friendly and sart when they deal with you Five Stars All The Way"
Extremely Convenient
"Excellent App. The new update makes it a lot easier to instantly check my balance. Saves me a lot of time"
Great addition for TOPCU!
"Excellent app, easy and effective!"
Good App
"I think this app is great, especially if you live outside of Arizona. All my account information at my figure tips."
Convenient
"Does everything I need in a timely fashion."