TOPCU's Youth Program:  The TOP Star Program
TOPCU's TOP Star program is designed to help all youths understand the importance of saving money and getting an early start. Kids, teens, and young adults will be encouraged to take part in the TOP Star program to enhance their knowledge of banking and learn the benefits of having that knowledge at an early stage in life and how that will benefit them all along the way for the many milestones in life. TOPCU's products can be added at those key points in life so as they grow, their account will grow with them!
Who is eligible top open a TOP Star Account?
All youths are eligible to open an account – from newborn to 25 years old.
Click Here for Other Kids Games & Activites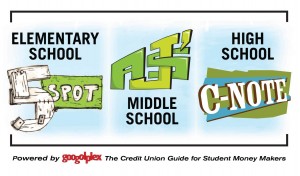 Here is an overview of the different levels:
TOP Star Kids
0-12 years old
TOP Star Teen
13-17 years old
TOP Star Young Adult
18-25 years old
Open Account Documents Needed_TOP Star Kid
Open Account Documents Needed_TOP Star Teen
Open Account Documents Needed_TOP Star Young Adult
What are the benefits of being a TOP Star member?
There are many benefits to learning about the importance of money and saving at a young age, but beyond that – TOPCU has opened a TOP Star Store where any TOP Star member can use TOP Star Dollars to buy goodies.
How does a TOP Star Member earn TOP Star Dollars:
Bring in Account Register (passbook) = 1 TOP Star Dollar
Bring in your current report card = 1 TOP Star Dollar

Every "A" (or equivalent) = 2 TOP Star Dollars
Every "B" (or equivalent) = 1 TOP Star Dollar

Any Deposit = 1 TOP Star Dollar

Any Deposit Over $25 = 1 TOP Star Dollar
When Account Balance Reaches $100.00 = 1 TOP Star Dollar per $100.00 Balance

Wearing a TOPCU TOP Star Wristband When Visiting the Credit Union* = 1 TOP Star Dollar   *(this can be purchased at the TOP Star Store)
Attending a TOPCU event = 5 TOP Star Dollars
Newsletter Reference or Word = 1 TOP Star Dollar
Completing a CU Paper Activity = 1 TOP Star Dollar
Bring in Birthday Postcard = 5 TOP Star Dollars