Welcome to TOPCU Rewards Checking account, where every transaction doesn't just move money. It rewards you with it.
# Swipe Your Way to Checking Rewards
How many times do we use our cards or digital wallets in a day? From the morning coffee run to the lunchtime grab-and-go, online shopping sprees to utility bill payments, every swipe, tap, or click has become an integral part of our daily lives. But what if each transaction could give you more than just an exchange of goods or services?
With our Rewards Checking account, every transaction you make earns you money. For the first two months, you get 10 cents back for every transaction. But the rewards don't stop there. After the first two months, you continue to earn 5 cents back on every transaction.
Earn 10 cents for every debit transaction for the first two months.

After the first two months, you continue to earn 5 cents back on every transaction.
#A Rewarding Journey Awaits
This is a journey where your everyday transactions transform into small but meaningful moments of triumph.
Start the process
With every swipe, tap, or click, you're not just making a transaction; you're writing a new chapter in your financial journey. Start your journey with our Rewards Checking account today, and let every transaction become a reward on your financial path.
No fees
No worries
No monthly or maintenance fees—what you earn is what you keep
$
0
No minimum
There's no minimum to open
Why open a Checking account with TOPCU?
 A TOPCU Checking Account can help you make progress with your money.
Financial Institution

Monthly maintenance fee

Monthly daily balance to waive monthly fee

TOPCU
$0
$0
Wells Fargo2
$10
$500
Bank of America

3

$12
$1,500
Are you ready to supercharge your Checking Account?
By switching to our Rewards Checking account, you're not just opening an account, you're embarking on a rewarding journey toward financial goals.
Start the process
Manage your money on the go.
Bank almost anywhere, anytime with our top-rated mobile banking app and easy-to-use digital tools. It's all right at your fingertips
60,000+ fee-free
ATMs

 

nationwide
Access your money when you need it with fee-free ATMs1 at stores like Walgreens®, 7-Eleven®, Target®, Circle K, and CVS Pharmacy®.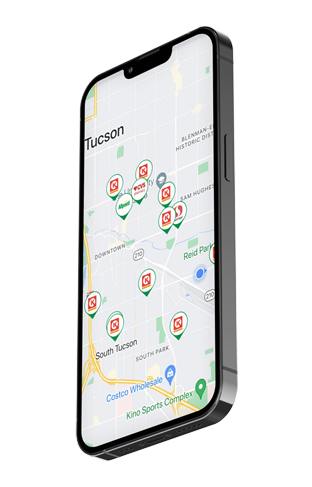 Ready to make the SWITCH?
You'll be glad you made the decision to switch to TOPCU! The process is as easy as visiting any of our branch locations. Our member services team will be happy to assist getting you signed up. You can also reach us by email at info@topcu.org or by phone at (520) 881-6262 ext. 702 or toll-free at (800) 440-8328.
Checking Account Types
Type:

Rewards Checking

Best For:
Members who use debit card frequently and carry low checking account balances
Opening Deposit Requirement
None
Monthly Fee
None
Interest-Earning
Earns interest on balances over $2,500
Online Banking
Free Online Banking and Bill Pay
ATM Transactions
Free at all in-network ATMs
(Out-of-network fees apply)
Check Discounts
Free basic checks (first box ONLY)
Debit Card
Free and earns $0.05 for each debit card transaction
Direct Deposit
Not required
Monthly Statements
eStatement required
*All members must open a basic savings account and maintain a $5 minimum balance.
1
 Out-of-network ATM withdrawal fees may apply except at any Allpoint ATM.
2Source: Wells Fargo Everyday Checking as of July 2022.
3Source: Bank of America Advantage Plus Banking as of July 2022.
See our Account Disclosures for details.
Zelle® and the Zelle® related marks are wholly owned by Early Warning Services, LLC and are used herein under license.
If you are using a screen reader, or having trouble reading this website, please call us for help at (520) 881-6262