Building Your Savings
Developing a regular savings plan can feel insurmountable. It always seems that your paycheck disappears as quickly as you get it. Designing a budget that pays you first is your first step in ensuring your paycheck doesn't disappear into the ether, but once you've worked out a way to set aside money each month, you need a plan for your savings.
Three Types of Savings:
Your savings plan should consider three timeframes for your financial health.
1. Short-Term Savings can be a small emergency fund to help ween you off your credit card usage. This should be a specific amount and can be changed as you need to. A small, achievable amount should be your first step, like $250 or $500. As you improve your financial health, you can increase this amount to $1000 or a less round number, such as two to three months of basic necessities. Once you've reached a comfortable level for this goal, you can move on to mid-term savings.
If you have a genuine emergency and need to dip into this fund to pay it, do so. It's better to dip into this fund than get more debt. But remember that you'll then be taking a step back as you work to rebuild this savings account. This should be for genuine emergencies, like your car breaking down.
2. Mid-term savings are for important life events. This should be for larger amounts, such as a goal to save three months of all your monthly obligations, or for a down payment on a car or a vacation. Whatever the case, this type of savings should have a specific goal, with the funds used for that reason.
3. Long-term savings is sometimes referred to as retirement savings. These goals are significantly bigger and more complicated. It's recommended you speak with a financial advisor about your retirement plans to determine what works best for you. The best bit of advice for this, though, is to start as soon as possible.
How to Save
After budgeting and figuring out how much to save and put toward your debt paydown plan, the next step is ensuring your money is put somewhere safe. Many institutions, TOPCU included, can arrange for automatic transfers on a schedule with your paycheck to ensure the money is moved into a separate savings account. This way, you aren't thinking too hard about saving these funds and the payments can add up quickly.
The next step in ensuring success in your savings plan is something we've already worked through. Studies show that by designating a specific purpose and goal for your savings, rather than just saving as much as you can, you're more likely to succeed in your plan.
If you perform other little tasks to save money, like collecting change or the "$5 Bill Challenge" you should make it a point to add these amounts to the savings accounts you've established for your goals rather than spending these monetary boosts.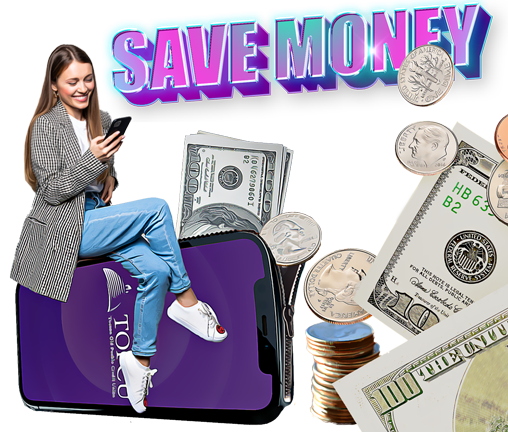 TOPCU offers Club Accounts to ensure your savings can be separated and labeled for each purpose you require. Please reach out to our service team to set this up today!
Contact us at (520) 881-6262, ext. 702 to learn more
Contact us at (520) 881-6262, ext. 702 to learn more