Welcome to: A better Digital Banking Experience!
You've asked for it. We're delivering it. We're excited to bring you newly enhanced online and mobile banking experience that makes banking with TOPCU better than ever.
Deposit Checks
Deposit your checks anywhere without having to leave home
Bill Pay
New look and feel makes it easier than ever to pay bills and access any existing payees and payment schedule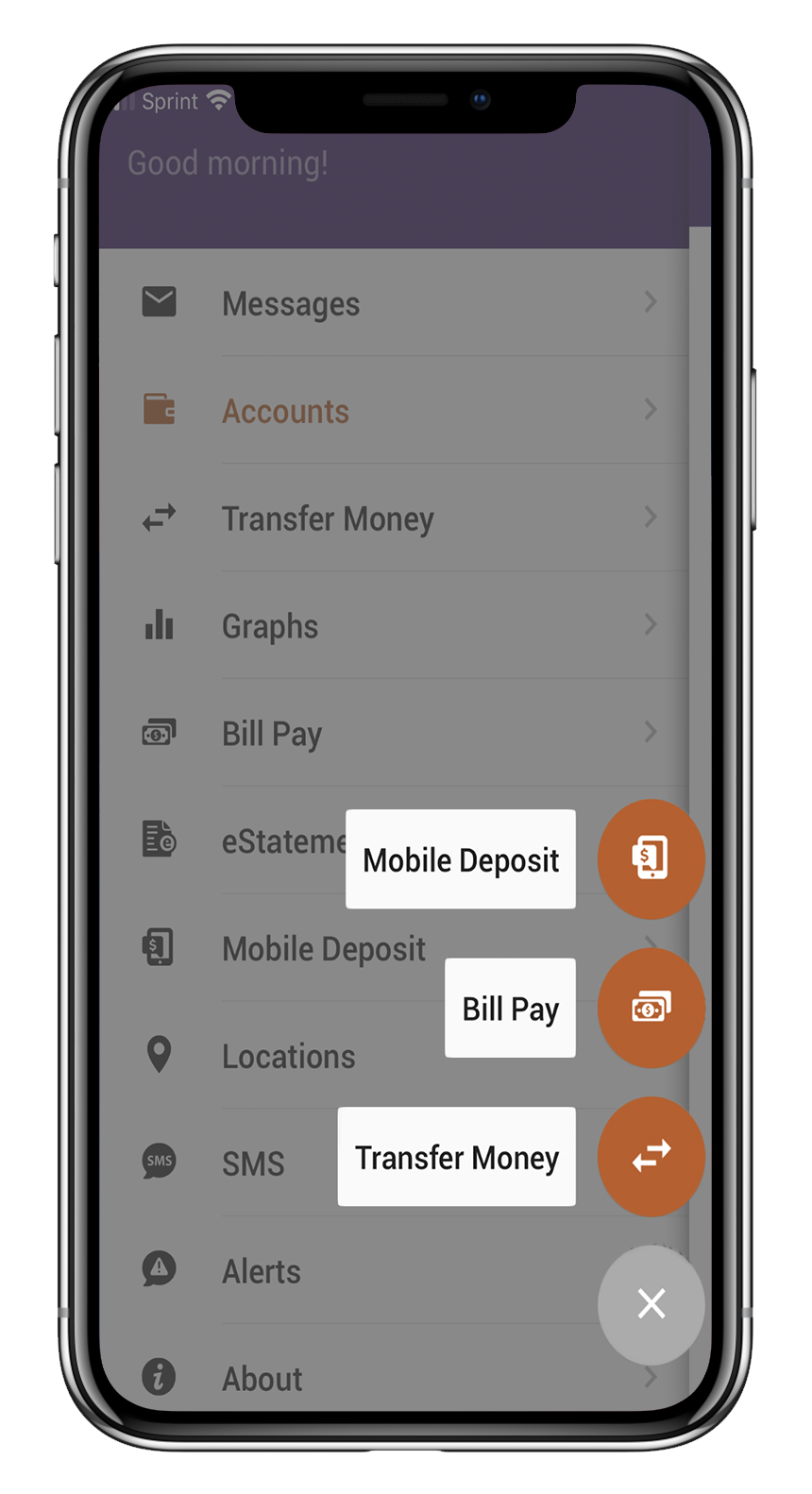 Alerts
Stay on top of what's important to you with customizable near real-time alerts from one central location
E-Statements
View, save or print your statements anytime 24/7!
Even more great benefits of our enhanced digital banking experience:
Free: Our mobile app and online banking are always free*
Account Summary Made Better: Current and Available Balances, Lines of Credit, Payment Due Dates, and more showing right from the home screen
View eStatements
Update personal information
Online & Mobile Banking FAQ
How do I change my password?
Home Banking Website –
Log into home banking at www.topcu.org
Click on "Settings" tab at top of account profile
Click on "Personal" button within settings sub menu
Scroll towards the bottom to "Modify Login Information" section
In the "TOPCU Online Banking Password" section, enter your current password, then your new password in the next 2 fields, and submit to update your password
Mobile Banking Application-
On the login screen, select "Reset Password" on bottom left of screen
One the next screen that pops up, enter in your home banking or mobile banking username and your current email address
A 7-digit enrollment access code will be sent to your email address that will expire in 1 hour of being sent
Use the access code to proceed with resetting your password
On the next screen, enter in your new password and select register to update your password
Mobile Deposit
1. On your mobile device, click "Mobile Deposit"
2. Choose which Account you want to deposit your check into.
3. You will need to manually enter the dollar amount of the check.
4. Endorse the back of the check with signature and clearly print "For Mobile Deposit Only at TOPCU"
5. Tap the "Front of Check" button to take a photo of the front of your check
Follow the on screen instructions for taking a photo of the front of your check
6. Tap the "Back of Check" button to take a photo of the back of your check
Follow the on screen instructions for taking a photo of the back of your check
7. Press Submit
Notice: There is a $1,500.00 Daily limit, anything over $1,500.00 in one day will be rejected.
There is a $5,000.00 daily limit for a commercial, any thing over $5,000.00 in one day will be rejected.
Click here for more info on mobile deposit.
Enroll and Access Multiple Accounts
Enroll in Bill Pay
Click the Bill Pay tab
Choose which account you want to link Bill Pay to
Click

 

Enroll in Bill Pay
Click Here for more information on Enrolling and Bill Pay!
How does digital wallet work?
Fill your digital wallet with credit and/or debit cards—either by manually entering card information or snapping a photo of your card. Then, when you are at a merchant that supports digital wallet transactions simply tap your phone over the payment terminal. You may use a fingerprint or Personal Identification Number (PIN) code to authorize the transaction. Your phone communicates wirelessly with the payment terminal using near field communication (NFC), which requires it to nearly touch the terminal to activate. This, combined with the need to authorize the transaction, means you won't accidentally make any payments.
What if my physical card is lost or stolen?
Contact TOPCU as soon as possible.
Can my card be loaded into more than one device?
Yes.
Is there a fee for this service?
No.
What if I am unable to activate my cards in the Digital Wallet?
If you are unable to activate you card in the Digital Wallet, please first verify if your device is compatible with this product. If your device is compatible and you are getting a message that says 'Contact Your Financial Institution' further verification is needed. Please contact 520.881.6262
Apple, the Apple logo, iPhone and iPad are trademarks of Apple Inc., registered in the U.S. and other countries. Apple Pay and Touch ID are trademarks of Apple Inc.
Google Pay is a trademark of Google LLC. Android, Google Pay, and the Google Logo are trademarks of Google LLC.
Samsung, Samsung Pay, Galaxy S (and other device names) and Samsung Knox are trademarks or registered trademarks of Samsung Electronics Co., Ltd. Other company and product names mentioned may be trademarks of their respective owners. Screen images are simulated; actual appearance may vary. Samsung Pay is available on select Samsung devices.