COVID-19 Update: We are here for you
Safety is our top priority
At TOPCU, the health and well-being of our members, associates, and communities is our top priority. We understand the concern and uncertainty you may be experiencing surrounding the coronavirus (COVID-19) and are committed to being responsive to the needs of our members and associates as the situation evolves.
We strongly encourage you to use TOPCU's digital tools and other resources for self-service banking and 24/7 account access. You can access your accounts online or by using the TOPCU Mobile app at your convenience. You can make payments, view transactions, check balances, find an ATM, and more. It's easier and faster (in most cases) to manage your account digitally, especially given call wait times may be longer than usual.
Operational updates
TOPCU branches will be temporarily closed to lobby traffic, effective Thursday, March 26th.
Services will be available in drive-thru or by appointment at our Main Branch. Our East Branch will be available for Drive thru Services only.
Appointments may be scheduled by calling or texting our Contact Center at, 520.881.6262
or Schedule an appointment via online chat. Just click on the Green Chat icon in the bottem left corner of the screen.
Online Chat Support
TOPCU offers Online Chat Support for members to use during open business days. Online Chat Support connects you with the same top rated support agents as you would find if calling info our Member Assistance Center.
How to use Online Chat Support in a web browser
Look for the green chat icon in the bottom right corner of your screen to use Online Chat Support. This icon will only display during the hours Online Chat Support is open.
TOPCU is taking the following measures with employees to ensure that we do our part to mitigate the spread.
• Continually cleaning all "high touch" surfaces including member access areas with bleach wipes.
• Encouraging our employees to take time off if they are feeling unwell
• Increasing flexibility for telecommuting offered to those that can work from home
• Evaluating non-essential business travel and determining the risks
• Business travel to high risk areas will be re-scheduled
• Suspending the requirement for medical documentation for those absent over 3 days to reduce the strain on our health care system
• Encouraging employees to utilize our Employee Assistance Program (EAP) to assist in stress reduction and improved sleep
Banking during social distancing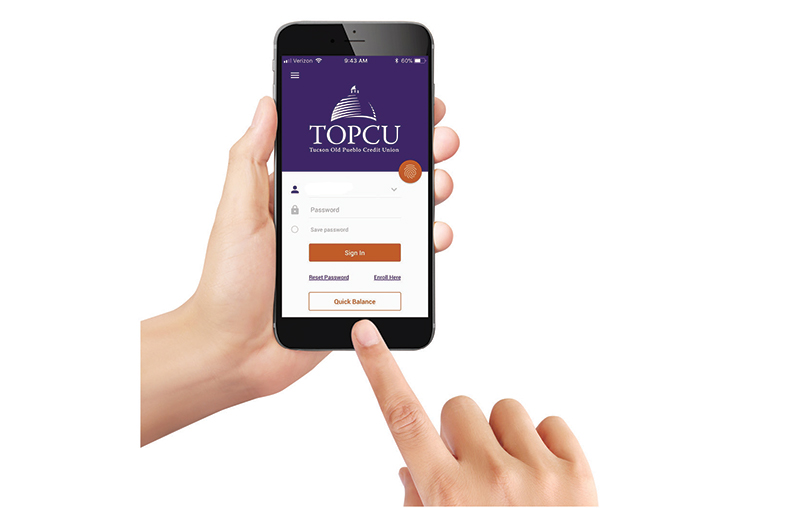 TOPCU Online & Mobile
If you'd like to avoid crowds during this time, we encourage our members to make use of these benefits for wellness and convenience.
Additional options include:
Drive-thru
ATMs 
Member Contact Center 
Night Deposit Drops
We have put a variety of programs in place to support our members.
Skip-A-Pay
Members can skip payments on eligible TOPCU loans. Click here to learn more about loans eligible for skip payments and to submit a request. Should you have questions or need additional assistance, please contact us by phone or text at (520) 881-6262.
Emergency loans Members* financially affected by COVID-19 can apply for an immediate cash loan for up to $1000 for up to 12 months at a rate of 0% APR** with 90 days to first payment. For more information and to apply, please contact us at (520) 881-6262 or send a secure message through Text or our Online chat.
**Emergency Loan APR of 0% with TOPCU checking account. Rates may change and are current as of 03/30/2020. For example, on an emergency loan for $1,000 at 0% for 12 months, you would make 12 payments of $83.33. 
Other options
We have a team available to support members' individual needs during situations such as this. Please contact us by phone or text at (520) 881-6262 to learn more about what options may be available.
We will continue to monitor this issue and respond proactively per CDC recommendations. Please continue to check this site for relevant and timely information as the situation evolves.
For additional information about COVID-19 visit the Centers for Disease Control at cdc.gov.