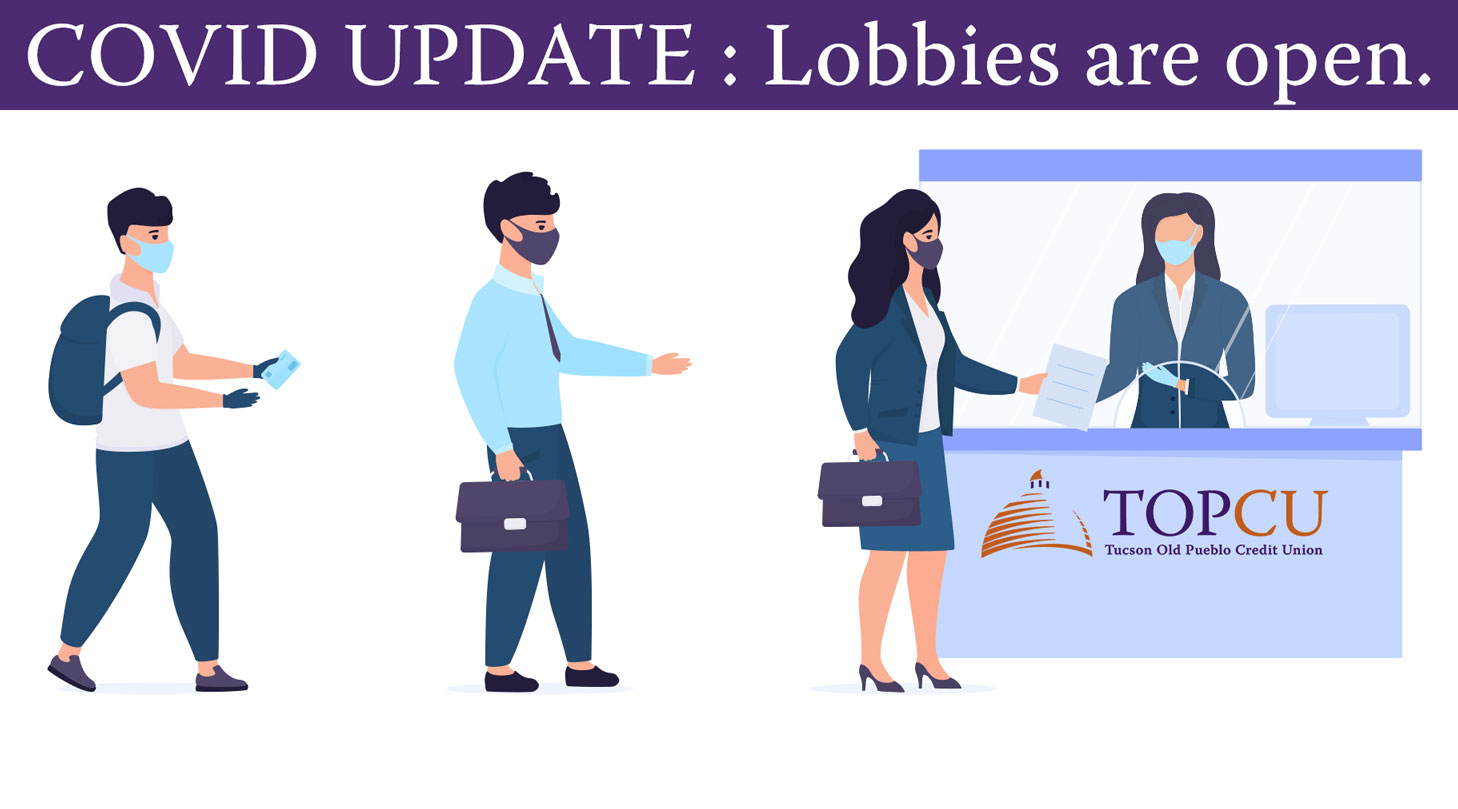 Latest News on Third Stimulus Payment
Find out what you need to know about the next round of payments.
The government has authorized additional COVID-19 relief as a part of the American Rescue Plan, which includes more stimulus payments. Here's a quick overview of who will be receiving money and how much:
Individuals earning $75,000 AGI or less per year will receive $1,400
Married couples filing jointly earning $150,000 AGI or less per year will receive $2,800
Head of Household filers earning $112,500 AGI or less will receive $1,400
Each dependent claimed will be an additional $1,400
Where's my stimulus check?
We're experiencing higher than normal call volume. If you are calling regarding the American Rescue Plan (ARP) Payments (stimulus checks) Using TOPCU's Online or Mobile Banking is the quickest way to verify any recent direct deposits. If you haven't received your deposit yet, check the status of your payment through the IRS web portal. Due to the anticipation of stimulus payments, Online Banking and the TOPCU Mobile app are also experiencing increased volume of traffic.
Safety is our top priority
At TOPCU, the health and well-being of our members, associates, and communities is our top priority. We understand the concern and uncertainty you may be experiencing surrounding the coronavirus (COVID-19) and are committed to being responsive to the needs of our members and associates as the situation evolves.
Due to the recent Mayor Proclamation, all Members, Associates, and lobby guests entering any TOPCU branch or other location will be required to wear a face mask.
We strongly encourage you to use TOPCU's digital tools and other resources for self-service banking and 24/7 account access. You can access your accounts online or by using the TOPCU Mobile app at your convenience. You can make payments, view transactions, check balances, find an ATM, and more. It's easier and faster (in most cases) to manage your account digitally, especially given call wait times may be longer than usual.
COVID-19 Response: General Member Notice 07-10-2020.pdf
Operational updates
We are open for teller transactions and MSR appointments with limitations of 10 members at a time in the lobby. Appointments may be scheduled by calling or texting our Contact Center at, 520.881.6262
or Schedule an appointment via online chat. Just click on the Green Chat icon in the bottom left corner of the screen.
TOPCU is taking the following measures with employees to ensure that we do our part to mitigate the spread.
• Continually cleaning all "high touch" surfaces including member access areas with bleach wipes.
• Encouraging our employees to take time off if they are feeling unwell
• Increasing flexibility for telecommuting offered to those that can work from home
• Evaluating non-essential business travel and determining the risks
• Business travel to high risk areas will be re-scheduled
• Suspending the requirement for medical documentation for those absent over 3 days to reduce the strain on our health care system
• Encouraging employees to utilize our Employee Assistance Program (EAP) to assist in stress reduction and improved sleep
COVID-19 Response General Member Notice 07-10-2020COVID-19 Response General Member Notice 07-10-2020
Banking during social distancing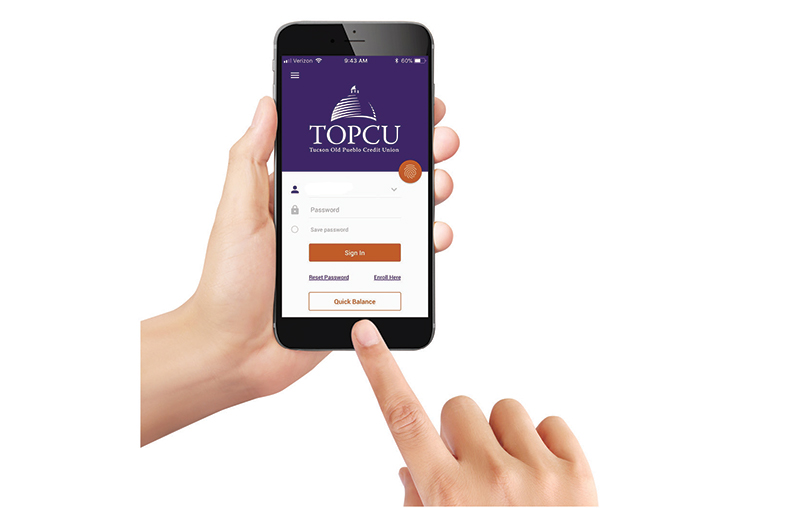 TOPCU Online & Mobile
If you'd like to avoid crowds during this time, we encourage our members to make use of these benefits for wellness and convenience.
Additional options include:
Drive-thru
ATMs 
Member Contact Center 
Night Deposit Drops
Emergency Financial Relief Programs
Skip-A-Pay
Members can skip payments on eligible TOPCU loans. Click here to learn more about loans eligible for skip payments and to submit a request. Should you have questions or need additional assistance, please contact us by phone or text at (520) 881-6262.
Limited Time Emergency Loan
Members* (or eligible for membership) financially affected by COVID-19 can apply for an immediate cash loan for up to $1,000 for up to 12 months at a rate of 0% APR** with 90 days to first payment. This product will allow TOPCU to provide financial assistance to members experiencing a temporary hardship as a result of a government identified emergency to help them through their time of need. For more information and to apply, please contact us at (520) 881-6262 or send a secure message through Text or our Online chat
Loan Terms:
• Loan amounts:
$300 minimum
$1,000 maximum
• Interest rates fixed at 0.00% APR
• Up to 12-month repayment term
• Up to 90 days until first payment
To submit an online application for this loan product:
1. Select Signature from the loan options.
2. For the Purpose of Loan select "other" from the drop down menu.
3. Type "COVID19 Emergency Loan" in the Reason for other box.
For more information and to apply over the phone , please contact us at (520) 881-6262.
**Emergency Loan APR of 0%. . For example, on an emergency loan for $1,000 at 0% for 12 months, you would make 12 payments of $83.33. Loan is based on an evaluation of credit and subject to approval. Rates are current as of March 27th, 2023.
Other options
We have a team available to support members' individual needs during situations such as this. Please contact us by phone or text at (520) 881-6262 to learn more about what options may be available.
Small Business Administration (SBA)
Paycheck Protection Program

You may be eligible for a loan under the Small Business Administration (SBA) Paycheck Protection Program. The program is designed to provide small businesses access to capital for payroll and other overhead costs.
• You must have an existing TOPCU membership
Online Chat Support
TOPCU offers Online Chat Support for members to use during open business days. Online Chat Support connects you with the same top rated support agents as you would find if calling info our Member Assistance Center.
Look for the green chat icon in the bottom right corner of your screen to use Online Chat Support. This icon will only display during the hours Online Chat Support is open.
We will continue to monitor this issue and respond proactively per CDC recommendations. Please continue to check this site for relevant and timely information as the situation evolves.
For additional information about COVID-19 visit the Centers for Disease Control at cdc.gov.